Brandi Collins, Color Of Change

<

info@colorofchange.org

>

Unsubscribe

12:58 PM (4 hours ago)
Book publisher Simon & Schuster is paying hatemonger Milo Yiannopoulos $250,000 to write a book.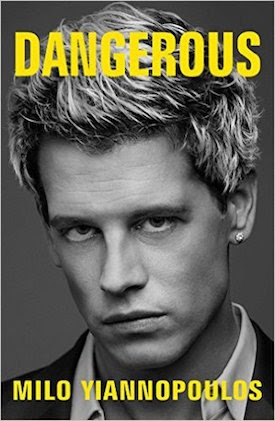 Don't let Simon & Schuster spread hate speech. Demand they immediately cancel the white supremacist book deal!
Dear Cathy,
One of the largest book publishers in the country, Simon & Schuster, just rewarded a white supremacist spokesperson with a massive book deal.
Milo Yiannopoulos - a Breitbart publisher and spokesperson for white supremacy - has made a name for himself as a mouthpiece for hate speech.
Yiannopoulos was banned from Twitter last year after leading a campaign of racial, anti-Black and sexual harassment against actress Leslie Jones.
The harassment driven by Yiannopoulos was so severe that Jones had to temporarily quit Twitter.
Now he's getting $250,000 from Simon & Schuster to promote his hateful ideas.
The Simon & Schuster book deal will give Yiannopoulos exactly what Twitter took away from him: a mainstream platform, one beyond the openly white supremacist Breitbart, that he can use to spread his views of hate for Black people, women, Muslims, and transgender people.
Demand Simon & Schuster cancel the white supremacist book deal!
Simon & Schuster is enabling white supremacists and is openly peddling hate speech for profit.
Simon & Schuster is banking on white supremacists all over the country buying this book. Not surprisingly, white supremacists have already pushed the book's pre-sales to No. 1 on Amazon, giving it a sleek "bestseller" label that further legitimizes Yiannopoulos' hate speech.
1
This book deal is so disturbing that even some segments of Simon & Schuster are speaking out against the book deal.
2
The United Kingdom branch of Simon & Schuster has already publicly refused to sell this hateful book.
Simon & Schuster claims that they "do not and never have condoned discrimination or hate speech in any form," but
handing a purveyor of hate speech and white supremacy a $250,000 megaphone is a clear statement that this publisher is willing to enable and profit from calls to harm people of color.
Demand Simon & Schuster cancel the white supremacist book deal!
This is not normal.
White supremacists should not be getting six-figure deals to promote their hate under the guise of mainstream platforms. Black communities know all too well how perpetuating stereotypes and hateful rhetoric can empower a racist and violent agenda.
In the week following the election, more than 900 incidents of harassment and hate crimes targeting Blacks folks, people of color, Muslims, immigrants, the L.G.B.T. community, and women have been reported.
3
The violence of these emboldened cowards will only continue if companies like Simon & Schuster continue to normalize white supremacy.
We will not stand by and let companies profit from white supremacy.
Join us in demanding Simon & Schuster cancel the white supremacist book deal!
Until justice is real,
--Brandi, Rashad, Arisha, Anika, Jade, Evan, Bernard, Corina and the rest of the Color Of Change team.
References: